Pedestal sinks offer a sleek, space-saving alternative to a larger vanity. These stylish sinks boast a small footprint, which comes with the added challenge of minimal storage and counter space. With our tips for decorating around a pedestal sink, you can reclaim that lost space while enhancing the look of your bathroom.
1. Master the Mirror
An interesting mirror doubles as a focal point and a useful spot to check your hair and makeup. Match the mirror style to your bathroom decor to pull things together. For example, a mirror with a distressed frame adds vintage appeal, while sleek, simple lines coordinate with a contemporary look. If you can find a stylish mirror that doubles as a vanity you've hit storage nirvana.
2. Add Floating Shelves
Installed above or to the sides of a pedestal sink, floating shelves provide ample space for storing your linens, stashing beauty products, and displaying decorative items such as candles, plants, and flowers for a little extra ambience.
3. Use Beautiful Accessories
Towel rings, bars, and toothbrush holders fit unobtrusively on your wall. They aren't just handy — they also look nice. Choose accessories that coordinate with your fixtures to keep things cohesive.
4. Double Up
You can still have enough space for two people to function in the bathroom with pedestal sinks. Install two, either side by side or spaced apart, depending on the available space and design of your bathroom.
5. Invest in a Stylish Faucet
From sleek, contemporary faucets to ornate vintage options, you might be surprised at the variety available and the impact that a stylish faucet makes. The right design can transform the room. For a quick look at our newest styles take a peak at our Inspiration Gallery.

6. Take the Floor
One of the biggest draws of a pedestal sink is the floor space it doesn't take up. Choose a decorative basket or a bin to slide under the sink to store your extra soaps, towels, and other bathroom essentials. A quick online search will reveal solutions for nearly every decorating style.
7. Utilize Other Flat Surfaces
Window sills, chair rails, and the top of the toilet tank all offer ample space to place necessary (or decorative) items.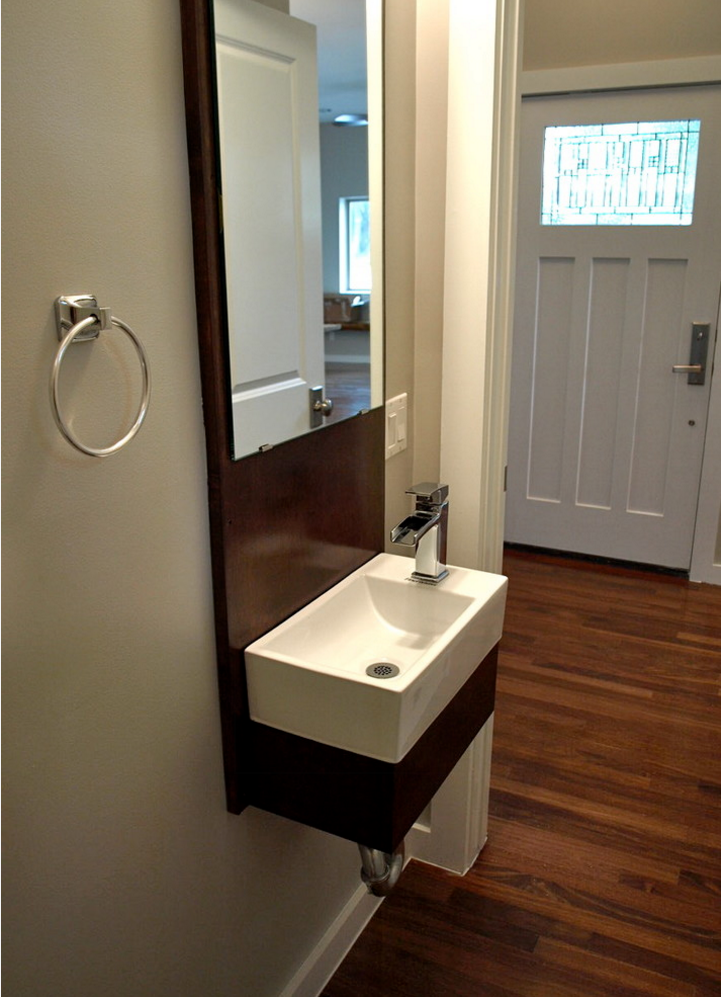 8. Go Custom
If space is a challenge consider having a custom sink arrangement crafted. Not only will it fit your exact needs it can also showcase your unique style. (Our Kelen Faucet is featured in this Houzz photo.)
9. Light It Up
Choose wall sconces that work well with the rest of your bathroom's style. Sculptural forms and gorgeous materials offer a wide range of options. Personalize things a bit with a decorative shade.
10. Accent with Textiles
One of the easiest ways to bring pattern, color, and texture into the area around your pedestal sink is with textiles, such as hand towels and decorative rugs. Neutral colors offer a subtle effect, while bright, vibrant patterns add cheery pops for visual impact.