This is a guest post from our #HolidayGiveaway partner, WineRacks.com.
Fine wine connoisseurs and beginner tasters, alike, listen up: there's a common misconception behind enjoying wine. The belief that one need's a huge space and large budget to age those bottles of red or enjoy that glass of crisp, refreshing bubbly in the home is simply not true. What with the variety of affordable, compact storage options out there, there are options for everyone! From the wall mounted metal racks like VintageView to WineRacks.com's customizable, made in America wine racks, there's a wine rack that can fit in any size space.
In the same vein, hosting a fantastic wine-and-dine party while still on a budget is just as simple, too. Here's some ideas on how to throw the perfect party to highlight the wine selections and thrill guests:
Pair Wines According to the Menu but Make Sure to Grab an Ice Wine… or Two
Making sure the wine pairs well with what is being served is key and there's some tried and true rules: reds go well with meat while white wines pair well with most cheeses. FoodAndWinePairing.org is great for checking on a pairing if there is an uncertainty of what to serve.
However, ice wine is one item that should be worked in this holiday season. Ice wines get their name from the conditions in which they are harvested: in freezing cold temperatures around 13 F after being left to chill on the vine.
Ice wines have been growing in popularity as a drink to serve during the holidays and they also happen to make a delicious dessert wine that pairs well with some freshly baked gingerbread.
Have Fun With the Stemware
Naturally with guests coming over hosts will want the best stemware on display. Something like the Amelia Stemware Server is a perfect table centerpiece for people to rest their glasses without fear of them being knocked over.
The slotted ring on top is also perfect for slipping in a card for holiday wine tastings to label each wine option. Hosts can even include on the card the name of a dish the wine varietal would go best with so guests can pair according to what is being served.
As for the glassware itself, have some fun.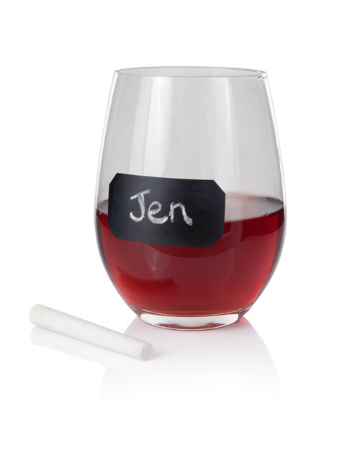 Add some chalkboard paint to a wine glass to make a fun piece that guests can write their names on. Not feeling so crafty? Pick up one already made.
Store Corks in a Decorative Manner
Cork cages made gorgeous, stand alone pieces that are sure to be a topic of conversation.  They come in a variety of looks, from a fancy Eiffel Tower to sit on the counter a Parisian theme is in place to a simple, sleek cage that can be mounted right on the wall.
They're also a great way to save any cork that might have sentimental meaning – perhaps from the bottle opened with family by the fire on Christmas eve!
Once it is full, empty it out to use for such festive crafts as a wreath made of corks. Add some other decorative touches like fake grapes and walnuts to give it a rustic look that really pops.
Furthermore, spray paint the corks and assemble them together to make an adorable Christmas tree.
Craft these before a party as decorations or get everyone together to craft their own as a fun activity. Then fill the cork cage again over the year to do it all over again!
Have any questions about wine pairings or have a decoration idea for fellow wine lovers? Let us know in the comments!