Our 'Design Dilemma' series continues with advice from the pros. To recap, Micki blogs at Confessions of an ADD Housewife, and needed some ideas on how to update the kitchen in her well-loved historic home. From floor to ceiling, our designers covered every square inch with advice and recommendations! Check out our prior post with Micki's before photos.
Andrea from Keeping It Cozy and Sara from Embrace My Space weighed in with advice for Micki.
Cabinet Upgrade
Sara: To give the kitchen a contemporary look, the pulls in the center of the cabinets should be replaced with a small knob.  Drawer pulls could be replaced with knobs as well, or updated with new pulls that compliment the new cabinet knobs. I'd suggest painting the cabinets a bright white to contrast with the grey countertops. Refreshing the cabinets and drawers with a fresh coat of paint will certainly work wonders for upgrading this kitchen.
Andrea: Spruce up cabinets with new paint and hardware.  Add inexpensive corbels underneath upper cabinets for a custom look. If you decide to paint, consider painting your cabinetry, especially lower cabinets, with a bold color.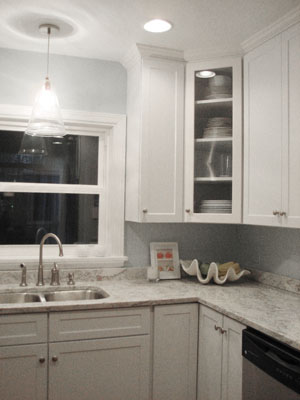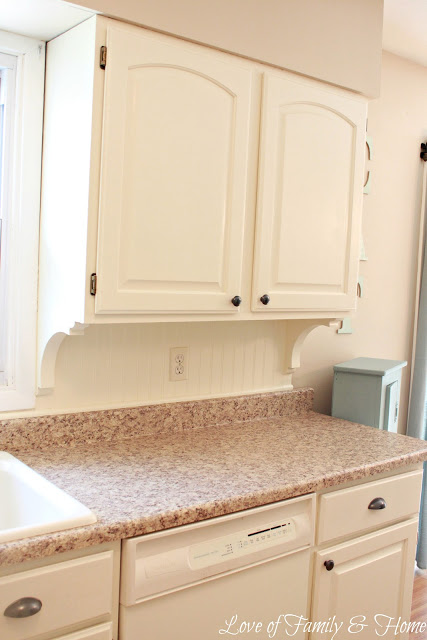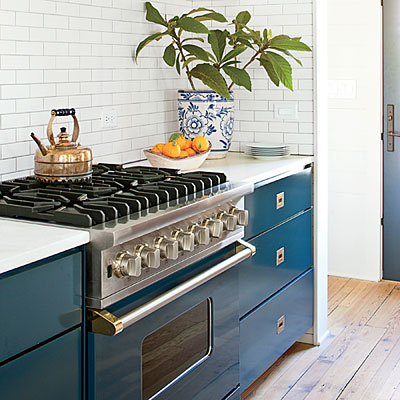 How To: In order to move the cabinet hardware, the holes from the existing hardware will need to be filled with wood filler and sanded smooth.  As a result, changing the cabinet hardware in this kitchen isn't a simple fix.  The cabinets will need to be refinished to cover the holes from the existing hardware.
When painting kitchen cabinets and drawers, a hard-wearing finish should be applied since these surfaces are subject to a lot of wear and tear.  Use a latex paint topped with a coat of polycrylic to achieve a strong, wipeable surface. Alternatively, use an interior enamel paint that will dry to a hard finish without the need for a top coat.
Flooring
Sara: Since the kitchen is arguably the most used space in a home, it's smart to keep the foundation clean and simple.  Use accessories and decor that are easy to change to personalize the kitchen to your taste.
Andrea: Refinish wood floors or consider painting them.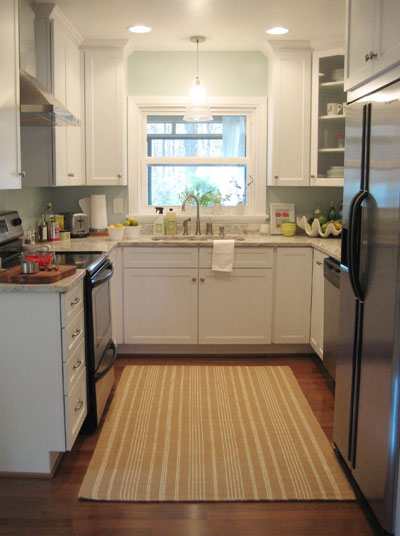 How To: One of the best ways to make your space current without making an expensive and more permanent commitment is using an area rug.  Plus, in a space filled with hard surfaces (wood floors, countertops, appliances), an area rug really softens a kitchen and provides comfort underfoot for the serious home cook!
Open Shelving and Storage
Sara: I love the look of open shelving, but clutter can quickly overcome this beautiful design element. Declutter by moving food items to lower cabinets or getting matching canisters to store pantry items like coffee, nuts, pasta, flax seed, etc. Organizing the dishes by size/color will also help keep the open shelving looking great.
Andrea: For additional space, add open shelving above windows, and also consider adding countertop space beside the refrigerator with shelving or cabinetry underneath, and across the window. Adding lower cabinetry and countertops beside the stove can also provide more storage.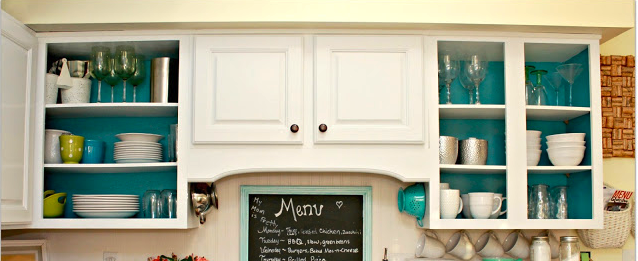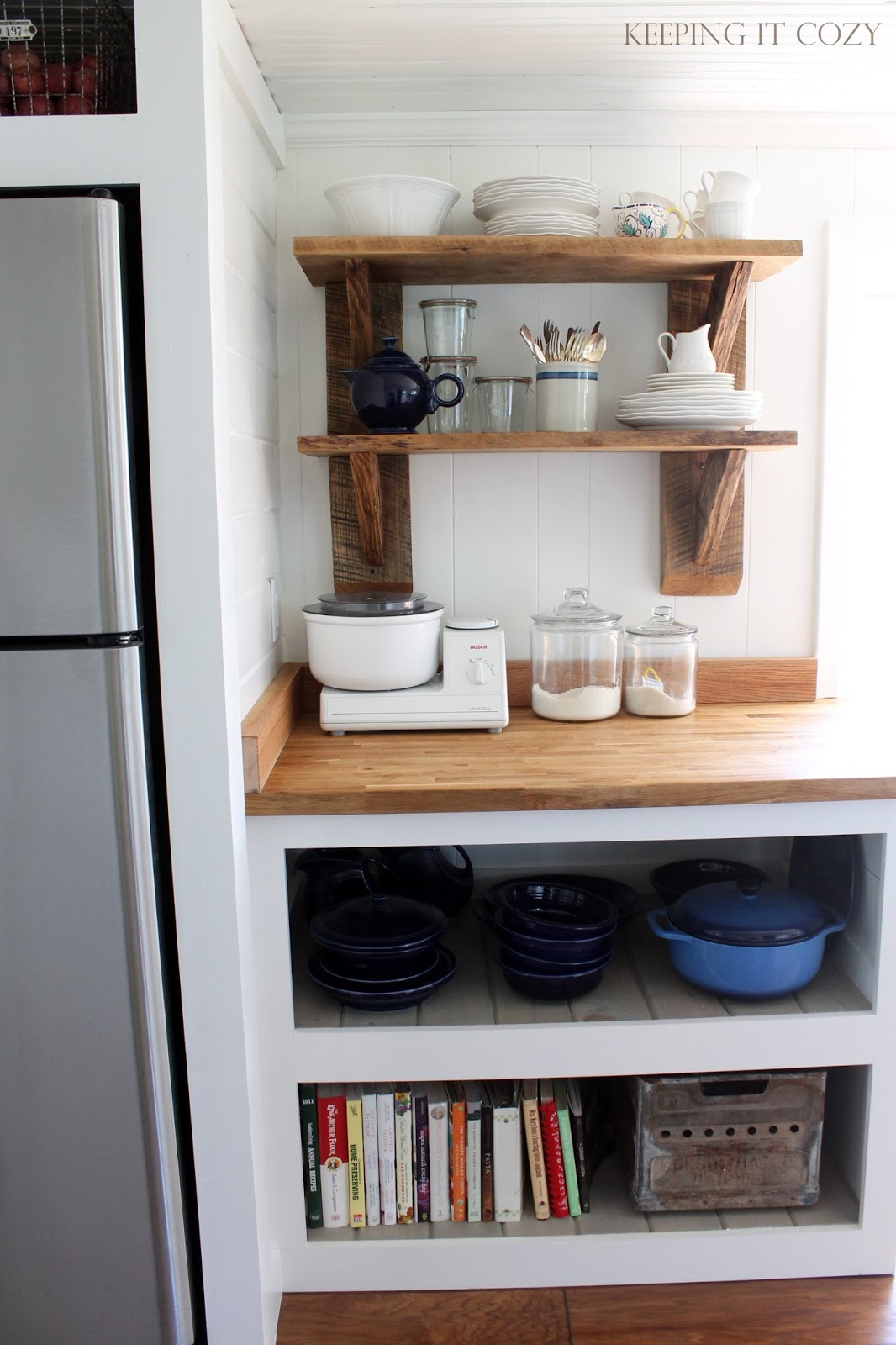 How To: Installing other organizational storage pieces into the open shelving will also help declutter and beautify the space.  For example, simple rows of hooks installed into the back of one of the cabinets will help corral coffee mugs.
Floorplan, Walls, and Ceiling
Sara: Turning this blank canvas into a chalkboard wall could be really fun. The board could be used to display a dinner menu, shopping/to-do lists, or even seasonally-inspired artwork!
Andrea: It might help to move refrigerator beside the window. Also, open up the overall look by removing ceiling tiles and wallpaper. Consider refinishing if possible, or use affordable pine tongue and groove planking.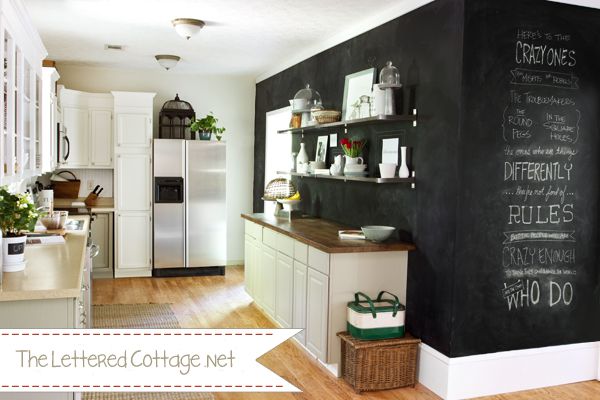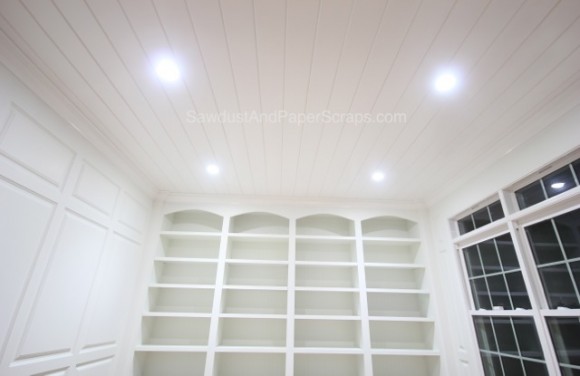 Backsplash
Sara: Because of the open shelving which has a lot of visual interest, I'd keep the backsplash clean and simple.  Perhaps white subway tile with a charcoal grout, which will tie into the countertops.
Andrea: I agree! Remove wallpaper and use subway tile as a backsplash.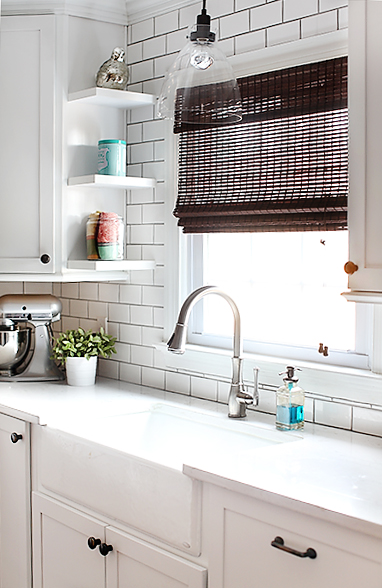 Color
Sara: Open shelving space can be a place where color is injected into the space. Painting the backs of the cabinets with a favorite color will help set off the contents of the shelves, and allows you to use a color that might be too bold for the entire kitchen.
Andrea: Another option would be to add reclaimed wood shelving as a way to bring in a contrast of color, especially with white walls or white cabinetry, and stay true to a historic aesthetic.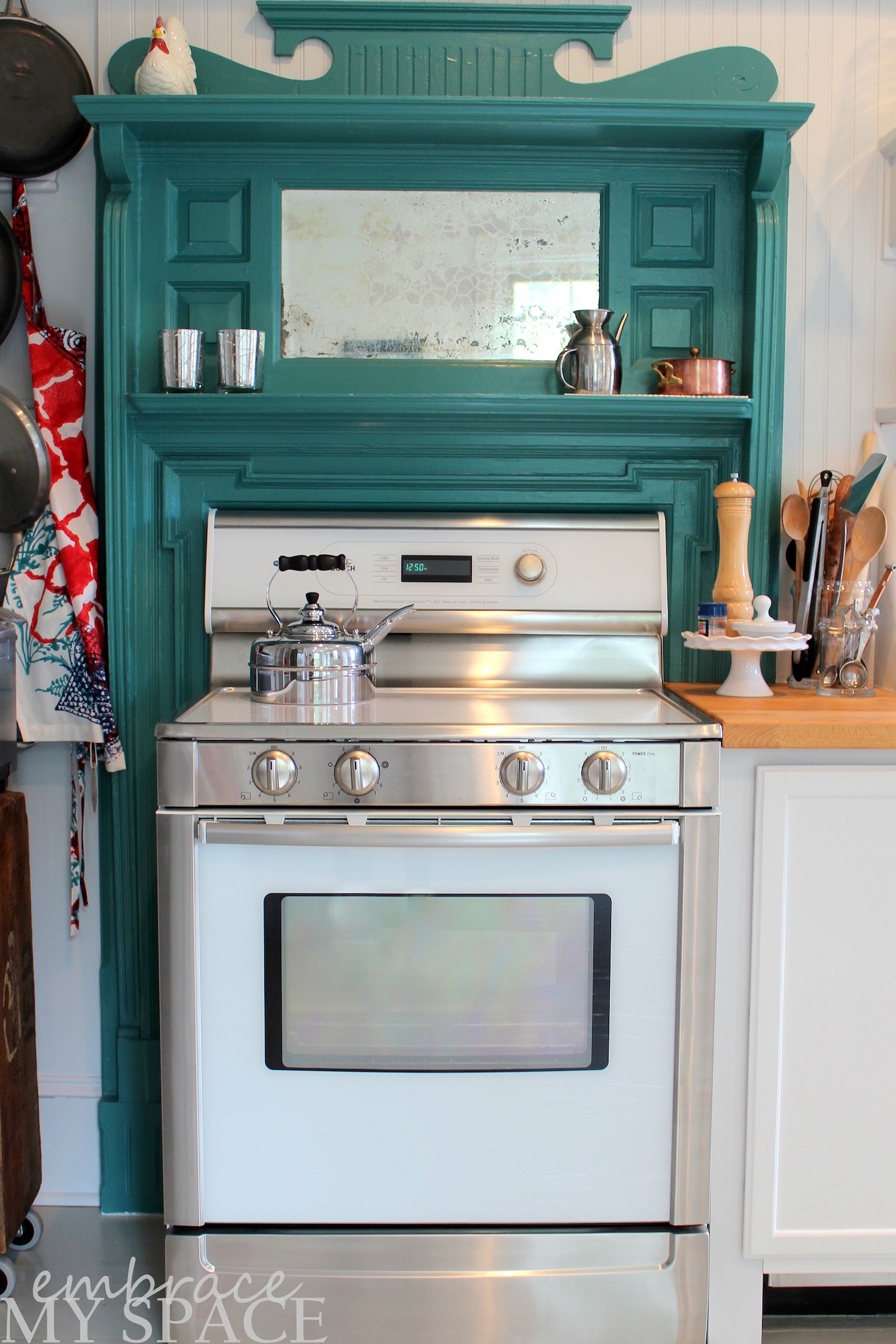 What ideas do you have to makeover Micki's space?
The Designers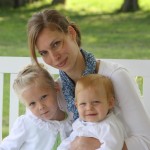 Andrea and her husband live in a tiny southern town with two precious daughters, ages 5 and 2.  They love the simplicity of country living, so they sold their house in the city two years ago and bought an 80-year-old farmhouse full of character. A few of Andrea's favorite hobbies include decorating and restoring her home, cooking, attempting to garden, learning how to sew, and dreaming up new projects.
You can follow Keeping It Cozy on Facebook and Pinterest.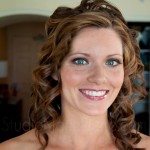 Sara is a recovering lawyer addicted to spray paint, shelter magazines and the color turquoise.  She started her blog, EmbraceMySpace, as a tribute to the home she had to sell when her family was relocated for her husband's job.  Now she's tackling design and DIY projects at her new home; loving every success and learning from every failure along the way!  Sara hopes that by sharing her design experiences she can help you to embrace your space.  For more details on the story behind Embrace My Space, visit Sara at http://embracemyspace.com/about/.
You can follow Embrace My Space on Facebook, Twitter, and Pinterest.
Kitchen Contributor
Micki is a crafter, blogger, and DIYer. She has six children and is currently restoring her family's 100+ year old American Foursquare (a craftsman without the cool built ins) with her husband on a cash budget. She also coupons, and is a contributing editor with LLL's New Beginnings. 
You can follow Micki's blog, Confessions of an ADD Housewife on Facebook, Pinterest, and Twitter.