The warmer spring weather is starting to make us daydream of long summer nights and days by the shore. If you are wanting to feel a little closer to the ocean  we have a few ideas to help create a coastal cottage-inspired bathroom in your own space. Learn how to use soothing colors and shimmering tile mixed with charming touches, such as clawfoot tubs and billowing curtains, to create a tranquil seaside sanctuary that's all your own.
1. Choose Cottage-Inspired Fixtures
Clawfoot tubs, pedestal sinks, and louvered bathroom cabinets create a quaint look. Just remember that you want simple and sleek — more cottage-by-the-sea than farmhouse.
2. Add Waves
Consider the design on your towels, a tile border, or wave-shaped sinks and tubs. Even gentle, swooping shapes on a light blue wallpaper are reminiscent of waves or seafoam.
3. Roll on a Fresh Coat of Paint
Add an accent wall to the room by painting one wall in a soothing shade of blue. Alternatively, you could go with all white, light gray with white accents, or light neutrals (think sandy beach colors) to create a tranquil space.
4. Include Statement Elements
Feeling bold? Adding a wallpapered accent wall with fish or other underwater scenes may be a powerful option. For a more subtle effect, choose understated touches like scalloped tiles or seagrass textured wallpaper.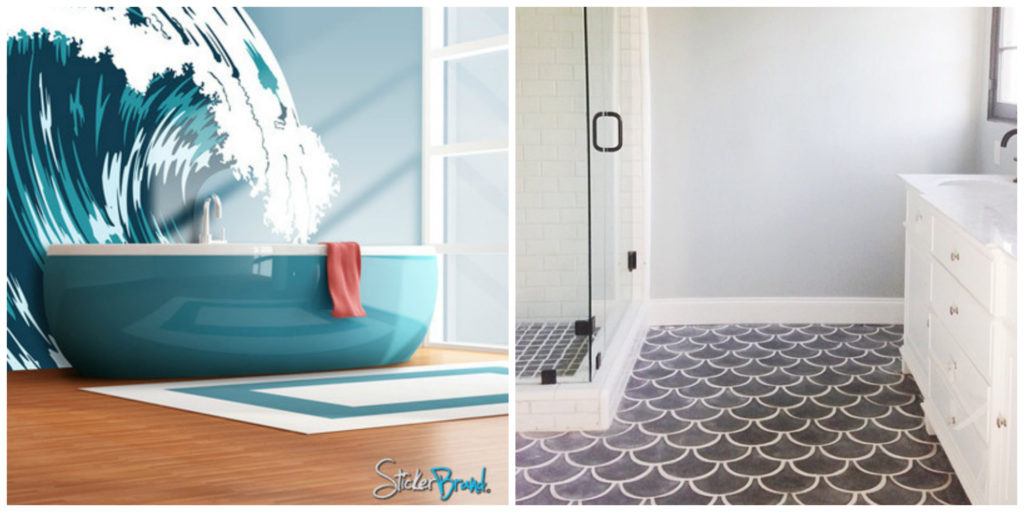 5. Choose the Right Textiles
Billowing gauze curtains and seagrass shades add an upscale beach cottage feel to windows while allowing plenty of light to fill the space. Natural hues and crisp whites work best, although you can use hand towels with designs, such as crabs and seahorses, for a decorative touch.
6. Select Inspired Fixtures
Faucet designers often draw inspiration from nature. Look for curves in handles, the arch of the faucet neck, and detailing around the base for design details that speak to the style elements you want to play up. For example, our Avalon Collection was inspired by the coast styles of the American Eastern shores. Our designers found smooth curves in the fluid lines of sand dunes and gentle ocean movements. Avalon's design captures the serene arc of a natural wave.
7. Natural Elements are a Must
Weathered wood framed mirrors, natural wood shelving, and rustic cabinets work beautifully with the neutral tones that work so well into coastal cottage bathroom decor. Slightly weathered and distressed woods provide a casual feeling; crisp lines and polished edges a more refined approach.
8. Get Artsy with a Focal Point
Decorative artwork adds a finishing touch to the room. Dockside wall sconces, replicas of ship wheels and bells, and nautical hooks can all tie into the decor add a whimsical look, but not all things coastal need to be traditional, bright, or playful. Consider a dramatic black and white photo, an abstract on canvas, or even a vintage travel poster.