This is a guest post from Jessica Johnson, Marketing Director at Extra Space Storage. 
Longing for an opportunity to host guests in your home? Maximize space for a dinner party, even if your home is on the small side. With the help of a few tricks, you can make the most of the space you have. Follow these suggestions and your guests will be marveling over your hosting abilities in no time – and you'll realize that having a small place doesn't have to be so bad, after all.
Store Your Clutter.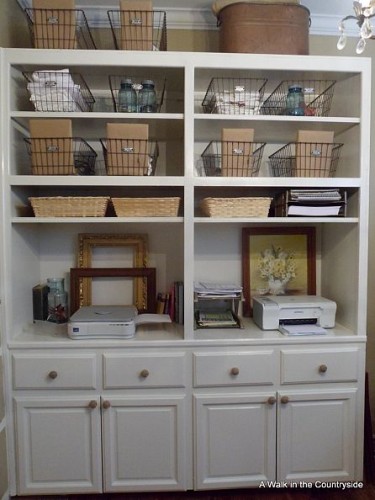 So your countertops are cluttered with junk mail and school projects? Find a place to store all your clutter – or get rid of it all together. You'll be amazed how much space opens up. And, it's space you'll put to great use during a party. Try using wire racks or wicker baskets on a bookshelf to hold papers of varying sizes, like the HomeTalk organization system above. Creating a dedicated space for paperwork and mail will help keep your home clutter-free. Don't forget to dust!
Move Your Furniture.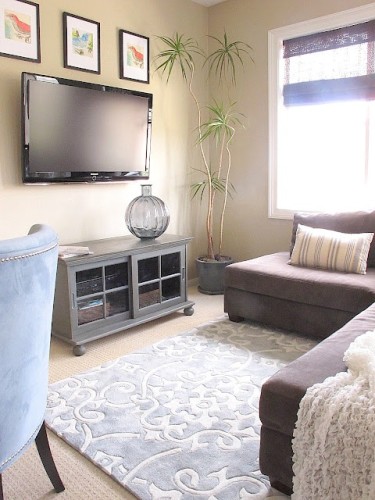 Open up the floor plan of your kitchen or any room in your house by pushing furniture such as tables, shelves, and end tables against walls or into the corners like this layout from My Uncommon Slice of Suburbia. It'll give people more floor space to mingle and move around. An open space is great for mingling, or even an impromptu dance floor! Store larger items that aren't party necessities in another room if they're easily moveable. If you're having a day event, open up any blinds or curtains and let natural light in, too. Bright light always makes a small space seem larger.
Bring in a Buffet.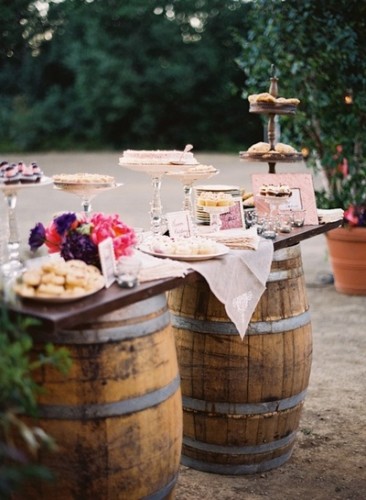 Alternately, adding furniture can sometimes make a dinner party more inviting. Creating a buffet is a great ice breaker for gatherings with groups of friends that may not be acquainted.If you're worried that your tiny kitchen won't hold the huge spread of food you've slaved over, set up a small folding table for extra space. Last minute gatherings can also be made cozy with impromptu items. An old dresser, or even wine barrels and a slab of wood like this look from Creative Home create a unique serving area. Just make sure to cover your creation with a nice tablecloth, centerpiece, or runner that suit the party theme.
Get Creative with Storage.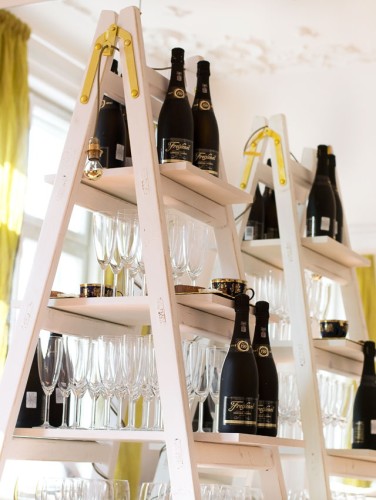 Remember the shelves you installed for dishes or family photos? During party time, clear them and make use of that extra storage for miniature desserts, cocktail supplies, or something as simple as plates and cutlery for your guests. Adding an unexpected element or storage area to your event can create great dinner time conversation. If you're creative and have some time to spare, the ladder shelves above from Nature Insider work great as shelves, too. Your guests will be complimenting you on your savvy serving abilities in no time!
Use Casual Seating.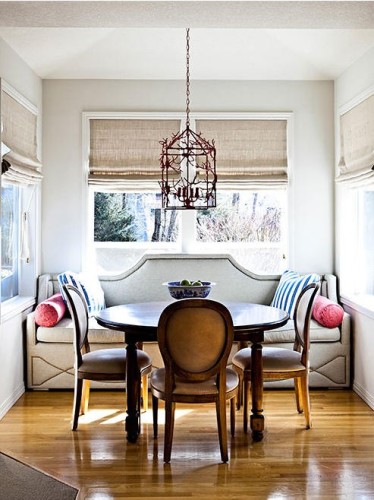 If you are lacking an eat-in kitchen or dining room, let your guests enjoy food in another room of the house. Try these tips.
Set out the food in the kitchen and let guests help themselves.
Introduce festive trays if you're short on table space.
If guests will be sitting on the floor, invest in a few floor pillows.
Keep necessities like extra napkins nearby so guests don't have to get up every time they need something.
Move a small dining table close to the couch to open up more seating, while still providing a place for places, as seen in the Lamb & Blonde blog concept above.
Remember, just because you don't have a lot of space doesn't mean you can't throw a terrific party. Don't let a lack of space discourage your creativity.
What space saving party ideas do you have?