Time honored qualities such as elegance, tradition and symmetry have been gracefully reflected in the Avalon Bath Collection. With smooth and sleek curves reminiscent of a seaside escape, it's no wonder the Avalon Collection is the perfect complement to any bath. We've made coordinating the look of your entire home as easy as asking for the Avalon Collection.
Inspiration for Pfister's Avalon faucet came from the coast styles of the American Eastern shores. Our designers found smooth curves in the fluid lines of sand dunes and gentle ocean movements. Avalon's design captures the serene arc of a natural wave in a classic styling of premium industrial engineering.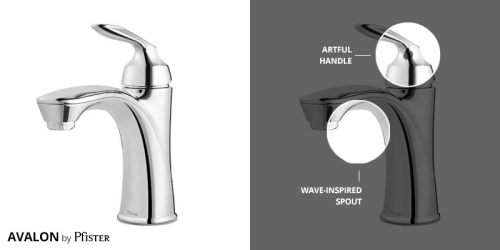 Designing with the Avalon Collection
Modern interpretations of airy, coastal design blend classic traditional decor elements with more modern transitional fixtures like Avalon. Anchor your space with natural elements like hardwood or bamboo flooring, painted wainscot walls, or linen wallpaper in tranquil neutral tones. Look for textures and finishes that reinforce the natural aspects of oceanfront living (think sand dunes, deep white beaches, and sea spray.) Monochromatic tones work best for the room's foundation; add pops of color and texture for contrasting focal points. Finish the look with coordinating lavatory faucets, tub and shower products, and accessories and you have your own seaside paradise!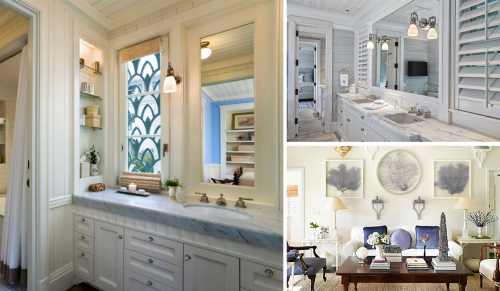 (Left: RAMSA House at Seaside; Top Right: One Kings Lane; Bottom Right: Florida Beach Cottage)

You can win the Avalon Collection from Pfister for your bathroom! Click here to enter!