Beyond sleek and moving into minimalist territory, Raya is the ergonomic sink topper that generates faucet envy, yet features everything you expect of a Pfister faucet. Experience the extendable spray head with stream, spray and pause functionality. You'll soon understand what an exceptional faucet can do for your favorite room in the house.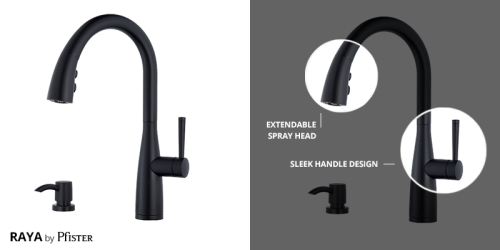 Designing with Raya
Raya's matte black finish offers countless possibilities! To further develop the faucet's modern look try pairing it with a marble trough sink and crisp white tile. Neutral stone and wood tones also work in harmony with black fixtures as the natural textures' lowlights provide warmth and depth. Grey tone walls or grasscloth wallpapers offer contemporary polish.

If you're visiting from Rafflecopter, enter the code word "SLEEK" for your entry confirmation.
You can win a Raya Kitchen Faucet and a suite of culinary prizes from Pfister! Click here to learn more!