When most people think of high end decor, they rarely consider combining it with function for families and pets. Luckily, Michelle of Decor and the Dog is a pro at creating beautiful DIY projects with long-lasting, people and pet-friendly projects. She gave us the scoop on her DIY designed home, including tips and tutorials for getting the look you want for less.
How did you get your start blogging – tell us your story.
I started blogging 2 1/2 years ago.  I read a lot of blogs and thought "Hey, I should do that."  I'm really good at starting things, mainly to see if I can do them (knitting, embroidery, running, art projects like my button wall art pictured below). I usually quit after I realize that I can.  I thought blogging would be the same, but I stuck with it.  I really enjoy the blogging community and the fun opportunities that the blog has brought us.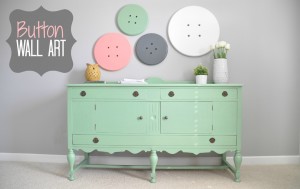 How did you come up with the name of your blog?
Coming up with a name for a blog is probably the hardest part of blogging.  I kept trying to come up with something witty.  I'm a pharmacist so I thought "Drugs and Decor" would be funny, until I thought hard about how people might misinterpret that.  Decor and the Dog ended up being the perfect fit. Ike, our Wire Fox Terrier, is totally the star of the show.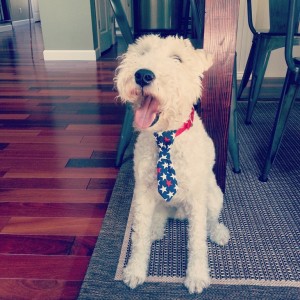 Speaking of the blog's namesake, tell us about Ike.
Oh, Ike.  Where do I start?  Ike is the love of my life (seriously, ask my husband).  Ike is always happy.  Ike doesn't have a bad day.  It's hard for my husband and I have to have a bad day when he's around.  He's very energetic. We tell people he's the best piece of exercise equipment that we have purchased.  He loves people.  He loves walks.  He loves chewing bones.  We love Ike.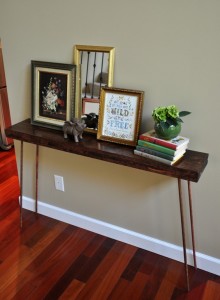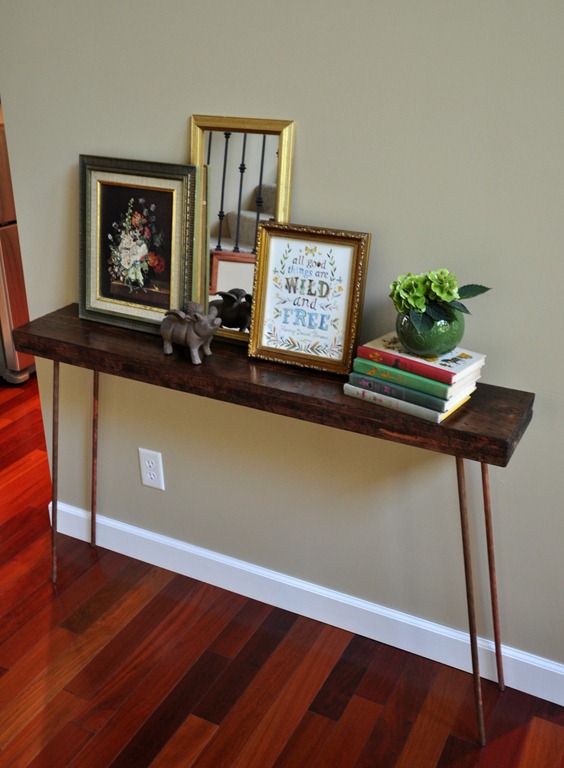 Another DIY project – a console table
Many homeowners find it challenging to find furniture that fits their lifestyle, especially with children or pets. Any advice?
We had an open space on our first floor that needed a console table (above).  We had trouble finding one that was the right dimensions.  We decided to build our own and use copper legs to make it unique.
Which renovation, design, or DIY project has been the most challenging, and what did you learn from it?
Building our home was definitely the most challenging DIY project that we've taken on.  For starters, we had this pesky thing called a budget.  We decided to build because it ended up being the most cost effective way for us to get our forever home.  We built our home simply, and are now "fixing it up".
Most people assume that picking out finishes is the hardest part of building your own home.  Those decisions were the easiest for us.  For example, we knew we wanted to install a kitchen backsplash, but we didn't know it would take us four years to make a decision.  The subway tile is a great fit for our home and design style.  I don't know that we would have picked it when we built, so sometimes patience pays off.The hardest part for us was spending every weeknight and weekend working on the house. We had zero free time.  The process showed us how fast time flies, and you get what you work for.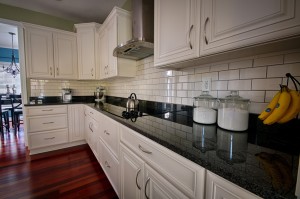 A Kitchen Backsplash 4 Years in the Making
Do you prefer to go on a shopping spree, or DIY and why?
We're definitely DIY fans, although a shopping spree does sound fun. Why spend hundreds of dollars when you can build/finish it yourself?  It's also nice to be able to build/design around your personal taste.  DIY projects definitely take more time, but the sense of accomplishment is totally worth it when you're done.
Shopping sprees can be great inspiration for DIY projects. This window headboard was our first furniture build.  I fell in love with a headboard that was out of our price range.  My husband thought he could build it.  Turns out, he could.  He really enjoys building furniture and it's great having custom pieces.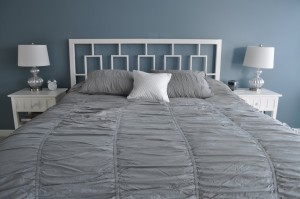 What do you recommend for DIYers who are just getting started?
First we built the headboard, then we needed a bed frame.  This project is great for people looking for a first furniture build.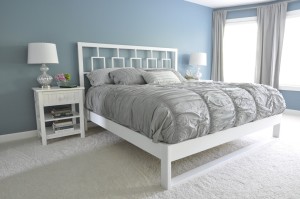 Great Beginner Project – A DIY Bedframe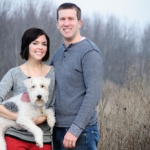 Michelle lives in Eastern Iowa with her husband, Nate. They have an adorable 6-year-old Wire Fox Terrier, Ike. Michelle is a pharmacist by day and a blogger by night. She writes a DIY blog, Decor and the Dog.
You can follow Decor and the Dog on Facebook, Twitter, and Pinterest.