Whether you've just moved or it's time to refresh the home you are renting, decorating the walls is a big opportunity to add style and personality. The key to decorating a rental property is to keep your style elements semi-permanent so you can take them with you when you leave. Rentals are ideal for framed art, textural fabrics and interesting objects, but save the Wainscot paneling and built-ins for a place of your own.
As you make your selections, look for decor that will be easy for you to install then repair before you vacate to ensure you get back your full security deposit. Don't give up on style just because your stay is short-term! Consider these creative ideas for stylizing your chic rental residence.
Movable Mural
If you group several smaller frames in a larger cluster, you can create the impression of a much larger piece of art. To create the mural effect verses a collage, focus on making sure the frames feel like they belong together and go for quantity over initial quality. You can dress up any collection of frames by covering them with a mono-chromatic paint theme, or even fabric accents from around the room. Try breaking up the field with objects, too! This approach can fill a large space, but is easy enough to pack up and take with you to your next place.
Source: Vintage Prarie Style (left), TwoThirtyFive Designs (right)
Perhaps you want something more creative inside the frames. That's possible, too. Instead of photos, place a frame around glass backsplash tiles and affix a decorative wooden letter or monogram to the tiles for a completely unique look. You can swap out photos for scrapbook paper of any type for a modern take, too. Plus, you can swap out the pages when the seasons change to give your home a breath of fresh air. If you're a little more adventurous, consider purchasing foam shapes, like a heart, painting them, and cutting them so that you can glue the flat side to the glass like this pumpkin design from Shelterness.com.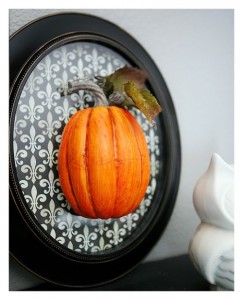 Source: Shelterness
Think Beyond the Frame
Think beyond things that you would normally hang on your wall, and you open up a world of possibilities. Blogger SalvageDior.com purchased a low-cost rubber mat from her local dollar store. She then painted it and used a sander to rough it up. You'd never guess that vintage-look scrollwork on her wall was a floor mat! If this style no longer works on the walls when you move, gift this gorgeous floormat to a new neighbor to make a new friend.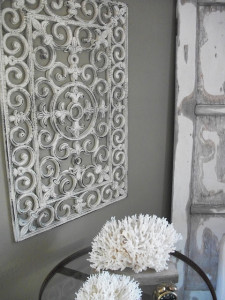 Source: SalvageDior
Upcycle and Recycle
Cover a piece of foam or canvas with old t-shirts and hang them on your walls for instant, portable art. You get to keep the design you love that may not work anymore, and the foam or canvas provides a contemporary, 3D look that can change with your travels or wardrobe. If you've got a scrap of fabric stuffed in your corner, it works just as well.
Source: BoysRacesandBooks
Fabric Statement
If you are likely to rent again in the future and love the look of rich fabrics in your room, this trick is for you! Make a one-time investment of an inexpensive frame as large as you can find (make sure it is light so it will move with you easily.) Cover it with your favorite fabric and mount it as an accent grouped with some of your favorite furniture to add depth, texture and color. When you move, switch out the fabric to create a whole new look!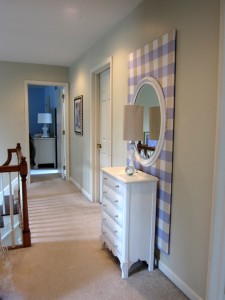 Source: InMyOwnStyle
What other suggestions do you have to make your rental feel more like home?