Your kitchen is the key part of your home where you will create memories that will last a lifetime. From hosting family dinners and holiday parties to celebrating special life events, it's an area where your loved ones will come back to time after time. Because your family and guests will enter this area frequently, it is important to create an environment that is warm and inviting, but also elegant and stylish.
Modern Farmhouse Style
Interior designers and homeowners alike have taken inspiration from both country décor and minimal design to achieve the "modern farmhouse" look in their homes and kitchens. By pairing sliding barn doors and reclaimed wooden walls with sleek metal accents, this trend embodies southern charm with a contemporary, clean-cut twist. The best part of this trend is that you can easily achieve the rustic chic look without having to spend a fortune. In addition, you can repurpose basic, existing staples in your home and pair them with modern yet affordable pieces (check out our Farmhouse Style Pinterest Board for lots of DIY ideas!)
Get the Looks at Home for Less
Kitchen Faucet
Our Zuri faucet's industrial spiral spring neck and high-utility form complement the stylish-yet-functional aspect of farmhouse decor. Try our Zuri Culinary Faucet in stainless steel finish to add a luxurious modern touch without the designer price tag of Kohler's Tournament Faucet. If you prefer the traditional warmth of our Tuscan Bronze finishes for your rustic look take a peek at our Ashfield, Canton, and Marielle designs.

Chandelier
Antique bronze finishes on hardware and fixtures provide color and texture that evokes the nostalgic appeal of industrial-era tools. Worn-in yet refined, look for lighting that incorporates craftsmanship with exposed bulbs and balanced features. We found a terrifically affordable Progress Lighting Equinox, 6-Light Antique Bronze Globe Chandelier at Lowe's that has a similar styling as the premium Branden Pendant Light from Crate&Barrel.

Accessories
If you're lucky enough to have a vintage, wooden bread box then show it off in your farmhouse kitchen! If not, add some homey charm with an everyday essential Bodum Bistro Bread Box from Wayfair, or splurge with a ceramic version from William-Sonoma.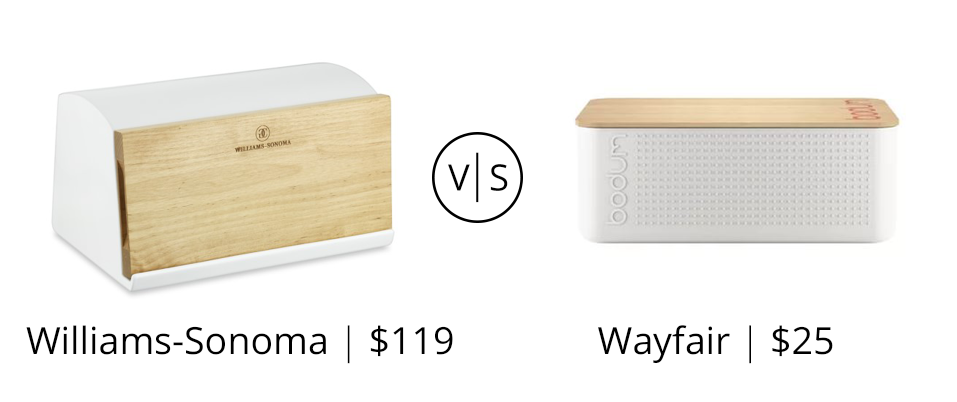 Dining Chairs
Industrial-style chairs are a positive must in a farmhouse kitchen, adding structure, shine, and a strong metallic foundation to layer decor around. These Promenade gunmetal dining chairs from Houzz will help your galvanized tin accessories POP in the kitchen and offer a similar look as the Crate&Barrel Lyle designer versions.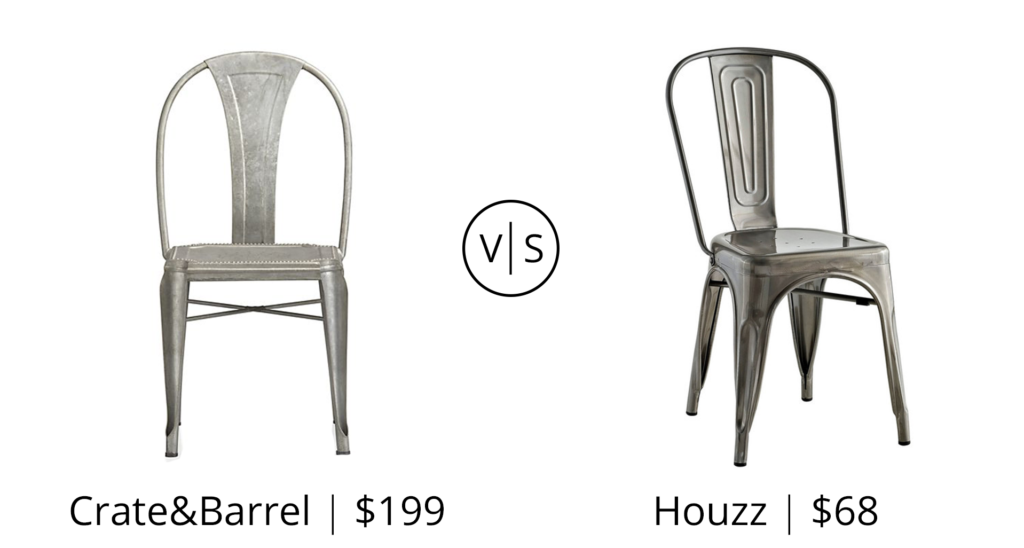 Kitchen Table
Frontgate's Washed Teak dining table is perfect for entertaining and serves as the heart of the farmhouse kitchen. The Leona Farmhouse Extension Table from World Market offers a lower-cost, high-quality alternative with the same sense of family-friendly ease and elegance for your kitchen.

With these pieces, you can instantly transform your kitchen into a relaxed but fashionable area of your home where you will create lasting memories. What are some of your favorite Farmhouse decor items?