The Venturi Collection was designed to make a statement. Our newest inclusion to the family, the Venturi Kitchen Faucet, is no exception. Bold, yet elegant faucets in the Venturi collection deliver water in a unique ribbon that smoothly pours from the faucet's spout.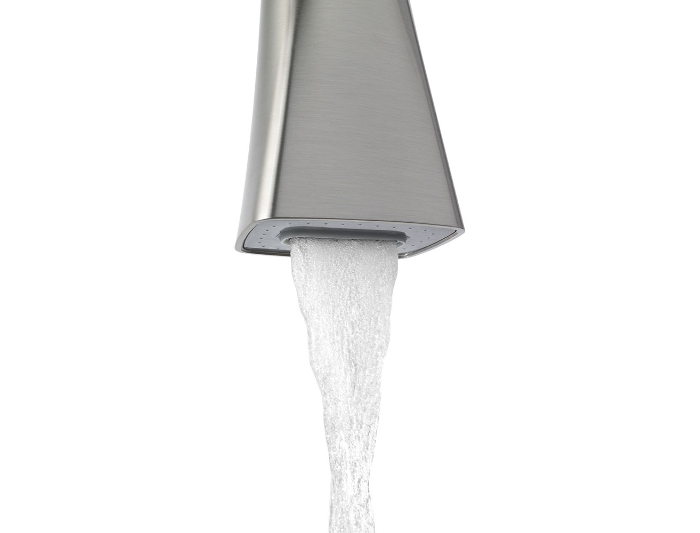 Beyond it's styling and luxurious water flow, the Venturi kitchen faucet is a particularly special addition–it is our first kitchen product to feature our new Spot Defense Stainless Steel finish. With the full richness and luster of stainless steel this new finish effortlessly maintains the beauty of your faucet with resisting the daily build-up of fingerprints and water spots. To learn more about the Venturi kitchen faucet and our new Spot Defense finish visit PfisterFaucets.com.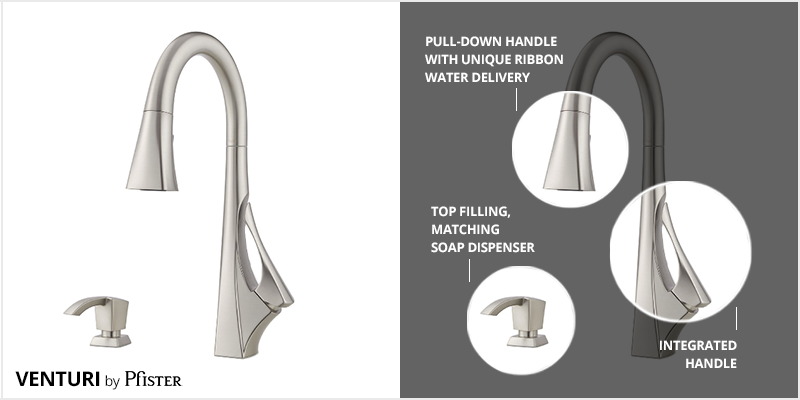 Designing with Venturi
The Venturi kitchen faucet's versatile design can easily be combined with a variety of kitchen styles, making it an outstanding choice for any remodel project. Venturi is also available in a full series of coordinating lavatory faucets, tub and shower products, and accessories.
Stainless steel finishes are some of the most versatile for styling so design possibilities are endless. To create a durable kitchen environment with hassle-free maintenance at the forefront try these tips:
Try granite, Corian, stainless steel, or laminates for scrubbable, grout-free countertop options that rarely or never require sealing.
Consider full-sheet materials like laminates or glass to create an easy-to-wipe backsplash.
Look for large-format tiles, marmoleum, linoleum or sheet vinyl for floors to reduce or eliminate cracks and lines that require more aggressive cleaning.
Want to win a Venturi Kitchen Faucet?
You can enter to win a Venturi kitchen faucet and an artful collection of kitchen prizes from Pfister! If you are visiting from Rafflecopter enter the code words "SPOT DEFENSE" for your entry confirmation or click here to learn more and enter.