The Breckenridge Faucet's "modern industrial" style is an aesthetic that the Pfister design team has been refining for years. Drawing inspiration from a bygone machinery era of multi-tone finishes, proper joinery, and functional mechanical artistry, Brecknridge is a stand-out design.
With Breckenridge, our aesthetic goal was to design a faucet that captures the practical and romantic elements of this style while fitting in both a modern/contemporary and traditional/farmhouse style kitchen. This is the kitchen centerpiece that takes authentic vintage details and seamlessly melds them with the best technology of today.

The Breckenridge spout, handle and faucet all feature design elements that are reminiscent of polished engineered hardware. Yet, the extending spray head with dual functionality flow control is thoroughly advanced, and the hex-nut feature on the handle is actually a molded design component. The Breckenridge design is versatile and works with almost any décor.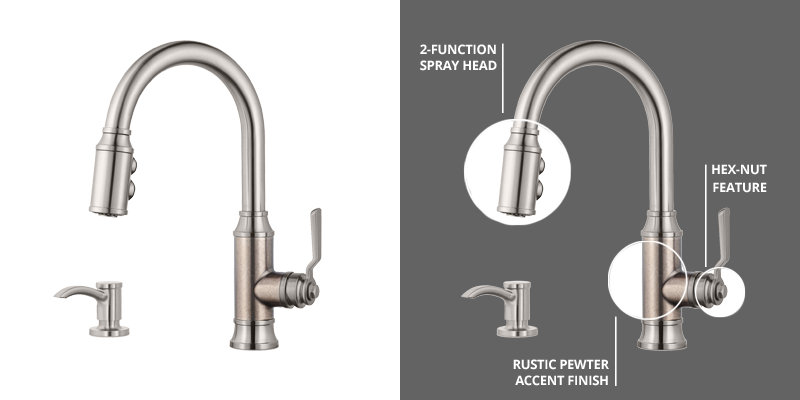 Designing with Breckenridge
The two-tone finish in Stainless Steel and Rustic Pewter combine to provide a distinct industrial look to compliment your kitchen and give it character.
Concentrate on neutral tones and wood and metal surfaces. Colors should be solids and patterns should be used minimally.
If a partial kitchen makeover is an option consider adding some raw, unfinished elements such as exposed pipes and ducts. These features can also be achieved with "faux" DIY treatments (many can be found on Pinterest.)
Chose vintage-inspired furniture and accent pieces that are as much about function as style.
To ensure a modern look (verses a vintage museum feel) be sure to focus on minimal clutter. Modern appliances and a mixture of worn and pristine surfaces will keep the space feeling clean yet down-to-earth.
Visit our Breckenridge Pinterest Board for design inspirations featuring prizes from the Breckenridge Style Suite Giveaway!
 Inspiration Image Sources
1. gitphoenix.org/wp-content/uploads/2015/08/modern-industrial-living-room-10-charming-industrial-living-room-interior-design-ideas-picture.jpg
2. sweethousedesign.com/wp-content/uploads/2015/08/Free-Industrial-chic-home-design.jpeg
3. smoothdecorator.com/media/2015/08/1.jpg
4. cdn.decoist.com/wp-content/uploads/2015/06/Modern-industrial-style-combines-aesthetics-with-ergonomics.jpg